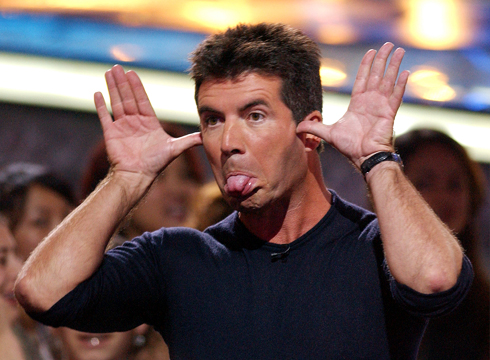 Kaffemuggen värmer upp vänsternäven samtidigt som
Adam Connor
, (Design Director från Mad*Pow) och
Aaron Irizarry
(UX-Designer från PixelFish) fångar min uppmärksamhet uppe på scenen. De inleder med bilden på Simon Cowell som ni kan se här ovan och jag måste säga att den fungerar rätt bra som utropstecken och startpistol.
Adam och Aaron har båda lång erfarenhet av kritik, både att få kritik och att dela ut kritik. Men som de själva säger, kritik är en färdighet som du bara blir bättre på genom övning. Kritik handlar om att bli en bättre kommunikatör.
Dock ska man vara noga med att aldrig ge kritik av fel skäl. De tar exemplet med besserwissern de själva mött så många gånger som
"know 4 buzz words that he wants to use".
Att ge kritik med fel avsikt är bara själviskt. Som givare av kritik är det viktigt att tänka på:
Håll inne med din initiala reaktion, den sk magkänslan. Samla dina första intryck, processa dem innan du luftar dem.
Anta ingenting.
Fråga mycket, visa intresse. Att ge rätt typ av kritik kräver ödmjukhet.
Bjud inte in dig själv att ge kritik, ge bara kritik om du blivit tillfrågad.
Som mottagare av kritik måste man komma ihåg att:
Mål är våra bundsförvanter.
Kom ihåg syftet med kritiken, det handlar om förbättringar inte bedömningar.
Var beredd att försvara varje tanke.
Ställ motfrågor, det leder till följande. Antingen inser kritikern att detta är en personlig åsikt eller så tvingar det kritikern att förtydliga sig så pass att kritiken blir nyttig feedback.
Kom ihåg att alltid undvika problemlösning och designbeslut under dessa kritikmöten. Kritiken ska upp på bordet ja, men lösningar ska aldrig tas fram i detta skede.